It's hard for me to believe that this annual report is my last for Jewish Voice for Peace. I have had the incredible fortune of being the Executive Director for ten inspiring, challenging, and amazing years. And now, it is time for me to move on while others step forward.
As an integral part of JVP, you have helped us sharpen and evolve our political positions over the last decade. In that time we endorsed the full Boycott, Divestment and Sanctions (BDS) call; published a transformative book on antisemitism; and issued a groundbreaking statement opposing Zionism. And together, we won major campaigns in support of BDS and Palestinian human rights.
During both the most hopeful moments and the most difficult—including the wars on Gaza, the demolitions of Palestinian homes, and the imprisonment of human rights heroes—I was so grateful to be out in the streets with you, and to be a part of this powerful community.
Most recently, you made possible the launch of JVP Action, the 501(c)(4) organization formed as JVP's political and advocacy arm, where JVP members celebrated Shabbat in Detroit with Representative Rashida Tlaib after President Trump and Israeli Prime Minister Netanyahu colluded to keep her out of Palestine. Expanding our work into the electoral sphere gives us a new set of tools to defend our champions and challenge our opposition.
From those of you who started before me, to those of you who have just joined us — you deeply inspire me.
As I write this letter, one of my last tasks as Executive Director at JVP, my heart is full because I got to work with you and because together, I know we will win. Thank you.
Onward,
Rebecca Vilkomerson
Executive Director
We are organizing a multiracial, intergenerational movement of American Jews and allies working for Palestinian human rights. We are doing that by changing U.S. policy, shifting the media narrative, and building power in our communities.
COUNTRIES WITH JVP MEMBERS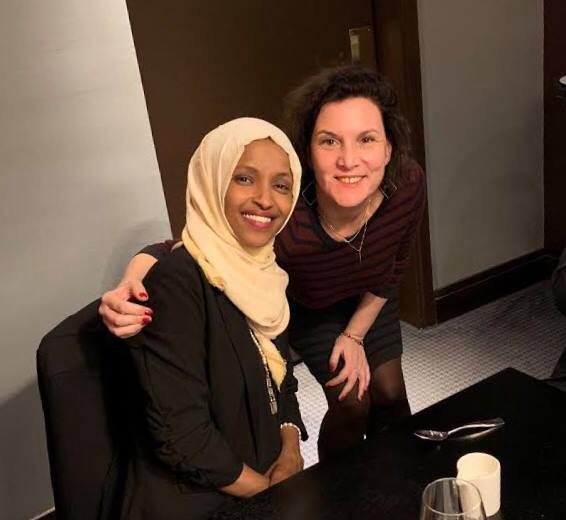 YOU ARE BUILDING A MOVEMENT…
Decades of organizing has brought Palestinian human rights to the halls of Congress like never before. Through meetings, town halls, protests, phone calls, and emails, JVP is harnessing the grassroots power of progressive Jews and allies to transform U.S. policy on Israel/Palestine.
CONGRESSIONAL MEETINGS IN A DAY
43 JVP members from over 20 cities gathered for strategy development, Congressional advocacy training, and a full day of lobbying on Capitol Hill. We met with 55 Congressional offices, urging Members of Congress to take a bold stand for Palestinian human rights.
NEW ORGANIZATION LAUNCHED
JVP Action, the new 501(c)(4) political and advocacy partner of JVP, takes our work transforming U.S. policy to a whole new level. JVP Action brings the voices, values, and grassroots power of our members and supporters to candidates and elected officials through endorsements, direct lobbying efforts, and voter engagement.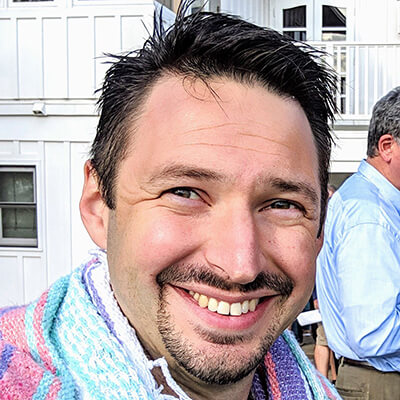 Oren Robinson
NATIONAL LEGISLATIVE ORGANIZING COMMITTEE LEADER, SAN DIEGO
"Getting more involved in JVP has provided the space and opportunity for me to reconnect with and reaffirm my Jewish roots, by taking a message of liberation for all people to Congress. And because JVP national supported our chapter to attend an in-person training, I am now more sure than ever that we can and will transform US policy and the Jewish community in the name of justice."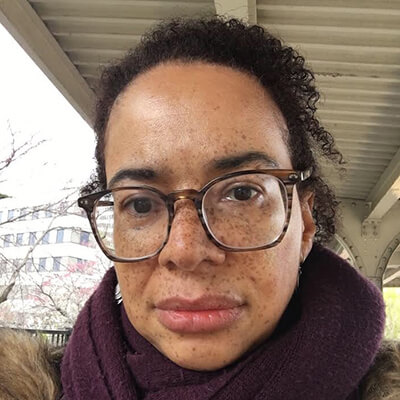 Lesley Williams
JVP ACTION BOARD MEMBER
"Launching JVP Action, the political and advocacy arm of JVP, demonstrates our success in shifting the political calculus and making tangible, concrete progress in advocating for Palestinian rights. We are at a tipping point, and we are ready to push Congress to finally hold Israel accountable. I'm thrilled to help lead JVP Action as we build on our growing momentum."
YOU ARE BUILDING A MOVEMENT…
Throughout all the heart-breaking moments of the past year – from shootings in synagogues, churches, and supermarkets, to the Trump administration's cruel treatment of immigrant families – our commitment to solidarity never wavered. We were reminded, yet again, that we cannot fight antisemitism without fighting racism, including attacks on immigrants and refugees, and that our safety is bound to the safety of those around us.
In the wake of the Pittsburgh and Poway shootings, JVP compiled practical tools for community safety that reflect our commitment to divest from the police and make spaces for spiritual worship safe for everyone. Over 120 people participated in our "Hashkiveinu" Community Safety Training series.
As conditions at the border and the Trump administration's treatment of migrants have worsened, immigrants' rights group Mijente and JVP co-sponsored the letter Latinx Jews: Let Our People Go. Over 150 Latinx Jews signed the letter, elevating their voices and perspectives in this moment and fighting against the hateful rhetoric and dangerous actions of the U.S. government.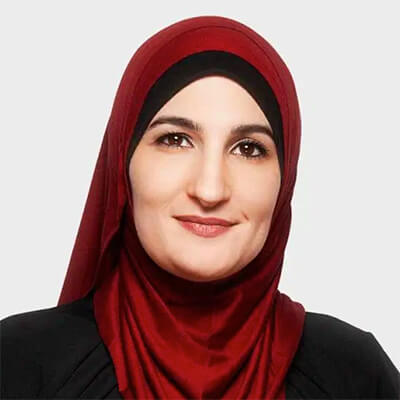 Linda Sarsour
Palestinian Muslim American activist, co-founder, MPowerChange.org
"Solidarity is a verb and Jewish Voice for Peace embodies that in every sense. For the past two decades, every time my community and our leaders were under attack, JVP members have unapologetically stood up to defend the rights of Arab, Muslim, and Palestinian communities. I am in gratitude for their work, and I feel safer and bolder knowing they have our back."
Daniel Klein and Ella Mason
JVP-PiTTSBURGH
"Our JVP Pittsburgh chapter, along with the rest of the city, were shaken by the trauma of the white supremacist mass shooting at the Tree of Life Synagogue. But when the President came here to co-opt the tragedy, and Naftali Bennet compared the attack to Palestinian rights advocacy in a local address, we were compelled to speak out and create our own public space to grieve together. It was a beautiful moment amidst incredible tragedy."
YOU ARE BUILDING A MOVEMENT…
JVP shows up. We're on the streets, at Town Halls, in the news, and at community meetings, holding our officials accountable and building the power of Jewish ritual for social justice. Our petitions garner thousands and thousands of signatures; our statements on social media go viral. We work in deep coalition, planning, imagining, singing, lobbying, and campaigning — together. We are building a multiracial, intergenerational base of Jews and allies dedicated to fundamentally shifting U.S. policy.
In November 2018, the JVP Western Massachusetts chapter and over 30 partners successfully pressured the Mayor of Northampton and the Chief of Police to cancel participation in a U.S.-Israel police exchange program. The Deadly Exchange campaign has single-handedly made police exchanges between the U.S. and Israel controversial and helped connect Palestinian human rights to racial justice and police reform movements.
Jewish Voice for Peace, SumOfUs, the BDS Movement, and the Palestine Institute for Public Diplomacy, among others, called for the 24-hour deactivation campaign in honor of Nakba Day in response to Airbnb's reversal of its 2018 policy announcement to stop listing vacation rentals in illegal Israeli settlements. This sent a clear message to corporate America: we are principled and will continue to fight for justice.
Wendy Elisheva Somerson
JVP-SEATTLE CHAPTER LEADER
"As a JVP member, I helped organize the Never Again action in Seattle. It was inspiring because it brought together hundreds of Jews, immigrants, and allies who refuse to be divided from each other by racism, xenophobia, and antisemitism. Instead it showed the collective power we can leverage toward a future of freedom, interdependence, and liberation."
Rabbi Jessica Rosenberg
JVP RABBINICAL COUNCIL
"The work that JVP is doing to fight antisemitism, support Jewish communities in grieving violence against Jews, and understand anti-Jewish violence in our current political context is essential. JVP is where I've spent years working for justice in Palestine/Israel as sacred solidarity and where I work alongside our allies today to create solidarity and safety."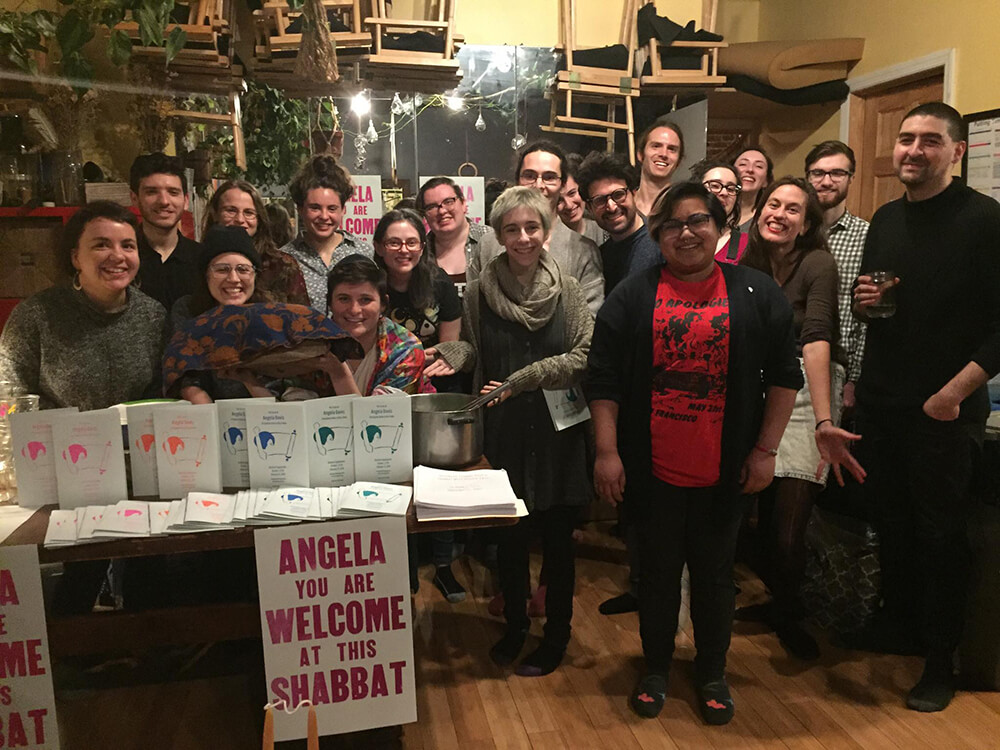 YOU ARE BUILDING A MOVEMENT…
Black-Palestinian solidarity is nothing new, but like all progressive movements, we face increased repression as we grow. This year, CNN fired Professor, activist, and former network commentator Marc Lamont Hill; the Birmingham Civil Rights Institute withdrew an award to veteran civil rights activist Angela Y. Davis, and there have been ceaseless attacks on Rep. Ilhan Omar. But throughout these challenges, JVP members, including Black Jewish leaders, have shown up for, as Professor Davis calls it, the "indivisibility of justice."
JVP members mobilized to defend Marc Lamont Hill, who was fired by CNN for telling a simple truth: Palestinians should be free. 
The Birmingham Civil Rights Institute withdrew a planned award for Angela Davis because of her decades-long commitment to Palestinian rights. In response, JVP members hosted two dozen "Shabbats for Angela." Hundreds of people came together for Shabbat dinners honoring Davis and sharing in her vision of a future where Black, Jewish, and Palestinian equality is a reality.
Jay Saper
JVP-NEW YORK CITY CHAPTER LEADER
"Hosting shabbats for Angela Davis helped transform a moment of utter divisiveness into a display of unapologetic love."
Rose Asaf
JVP-NYU MEMBER
"Getting to hear Marc Lamont Hill talk at NYU was incredible and inspiring. His courage in the face of such intense backlash is a lesson for us all in personal sacrifice and unyielding commitment in the pursuit of justice for everyone."
Our grassroots fundraising model keeps us accountable to you and our collective vision for justice. Eighty-six percent of our funding comes from individual donors. Over the last 12 months, over 19,034 people donated to JVP and our average gift was $63. Every gift you make gets us closer to the world we want and the change we need.
JVP Budget FY2019: $3,256,624
YOU ARE BUILDING A POWERFUL MOVEMENT.
This year, in the face of hate and violence in both the U.S. and Israel/Palestine, you have taken bold actions and stands for justice. We have taken them together.
Thank you for all the ways you are helping to build a powerful movement for freedom, justice, and equality.
Feeling inspired?