DEAR FRIENDS,
As we enter the Jewish High Holy Days, a time to reflect and renew our commitments, I am struck by the many lessons of this past year at JVP. We are nearly three years into the pandemic. Israel's apartheid regime of state violence, dispossession, and discrimination against Palestinians continues to escalate. Our movements for freedom and justice — from Palestine to the U.S. — face profound repression. Looking back, it is natural to feel despair.
But a full accounting of our past year makes a strong argument for hope. We've won powerful victories in our boycott and divestment campaigns; successfully challenged and shaped the mainstream narrative; and built culture and community toward a thriving Jewish life beyond Zionism. 
We know our work, made possible by you, is making a difference. This report includes some of the big wins and major escalations from our strategic campaigns and rapid response mobilizations. Throughout the year, we translated our grassroots power, intersectional partnerships across movements, and effective communications strategies into successful action — from an impressive shareholder resolution vote in our No Tech for Apartheid campaign to the global news story detailing our Deadly Exchange campaign win.
We continued to create our political home here at JVP — and after years of pandemic isolation, we're rebuilding and innovating. We're finding novel ways to bring in newcomers, create community, learn together, and stay connected. We're growing our exciting Wrestling with Zionism training program, hosting powerful politically-grounded rituals, launching new chapters, and establishing new rhythms for regular virtual connection. 
As this marked our 25th year, we also began the process of creating a new strategic plan. We face enormous demands and opportunities, and it's critical that we are clear-eyed about the most impactful role for JVP to play in the movement for Palestinian liberation.  
By continuing to work together, we will build a world that is truly free for all.
Thank you for courageously standing with us,
Stefanie Fox
Executive Director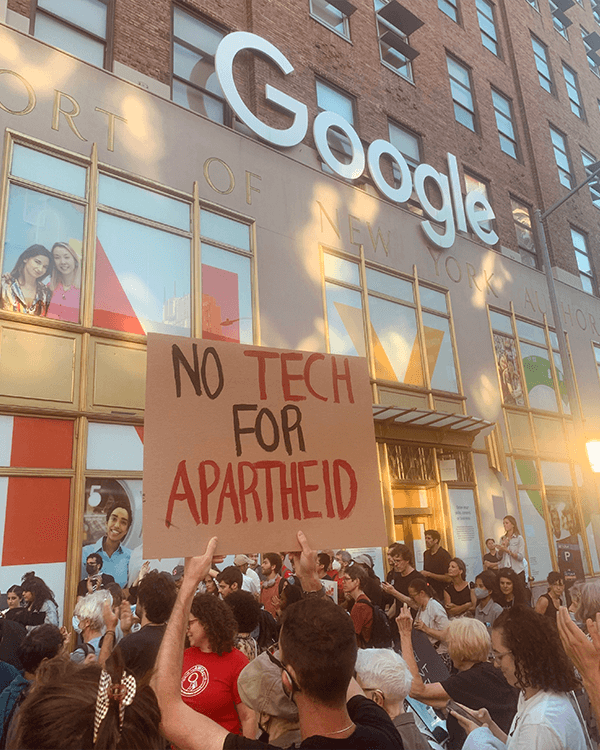 ORGANIZING TECH WORKERS AND SHAREHOLDERS
With tech workers and movement allies, we launched the No Tech for Apartheid campaign, demanding that Amazon and Google end their $1.22 billion Project Nimbus cloud contract with the Israeli military and government. JVP helped organize Google and Amazon investors to submit the first-ever shareholder resolutions that name Israeli apartheid. Both resolutions performed far better than expected, showing a significant portion of Google and Amazon investors don't want to do business with governments who abuse human rights. We also supported Jewish Google worker-activist Ariel Koren, who faced harsh retaliation for speaking out against Project Nimbus. Ariel's story was covered in The Intercept and the Los Angeles Times.
GOOGLE AND AMAZON WORKERS
 Google and Amazon workers led direct actions outside of their companies' offices in 4 cities across the US.
50 movement organizations are partners on the #NoTechForApartheid campaign that supports tech-worker-led organizing against Google and Amazon's contracts with the Israeli government and military.
Our coalition organized 40,000+ campaign supporters to send emails to Google and Amazon's executives.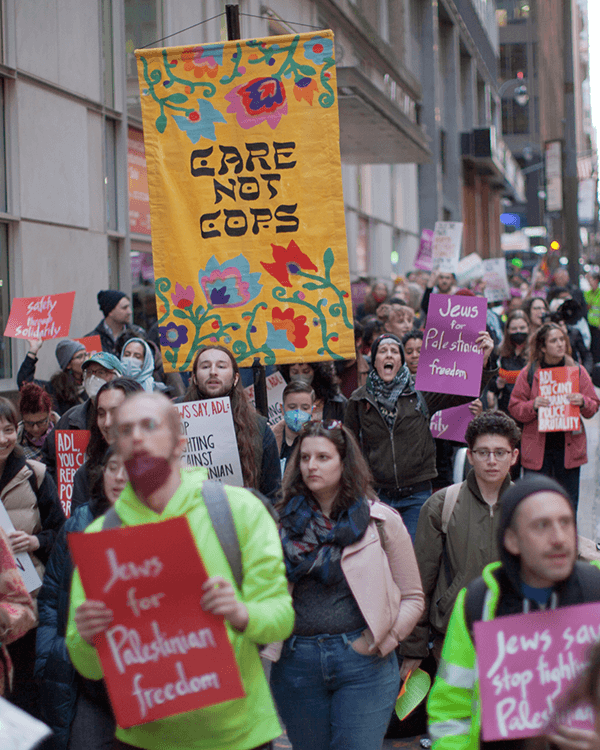 ENDING DEADLY POLICE EXCHANGES
A leaked internal Anti-Defamation League (ADL) memo published in The Guardian and Jewish Currents recommended that the ADL end their deadly U.S.-Israel police exchange program and admitted that the trips militarized the police. The memo specifically mentioned that JVP's campaigning made the program controversial and costly to defend. JVP members across the country joined together for a series of online events, a large virtual rally, teach-ins, and in-person protests at ADL offices demanding a permanent end to the police exchanges.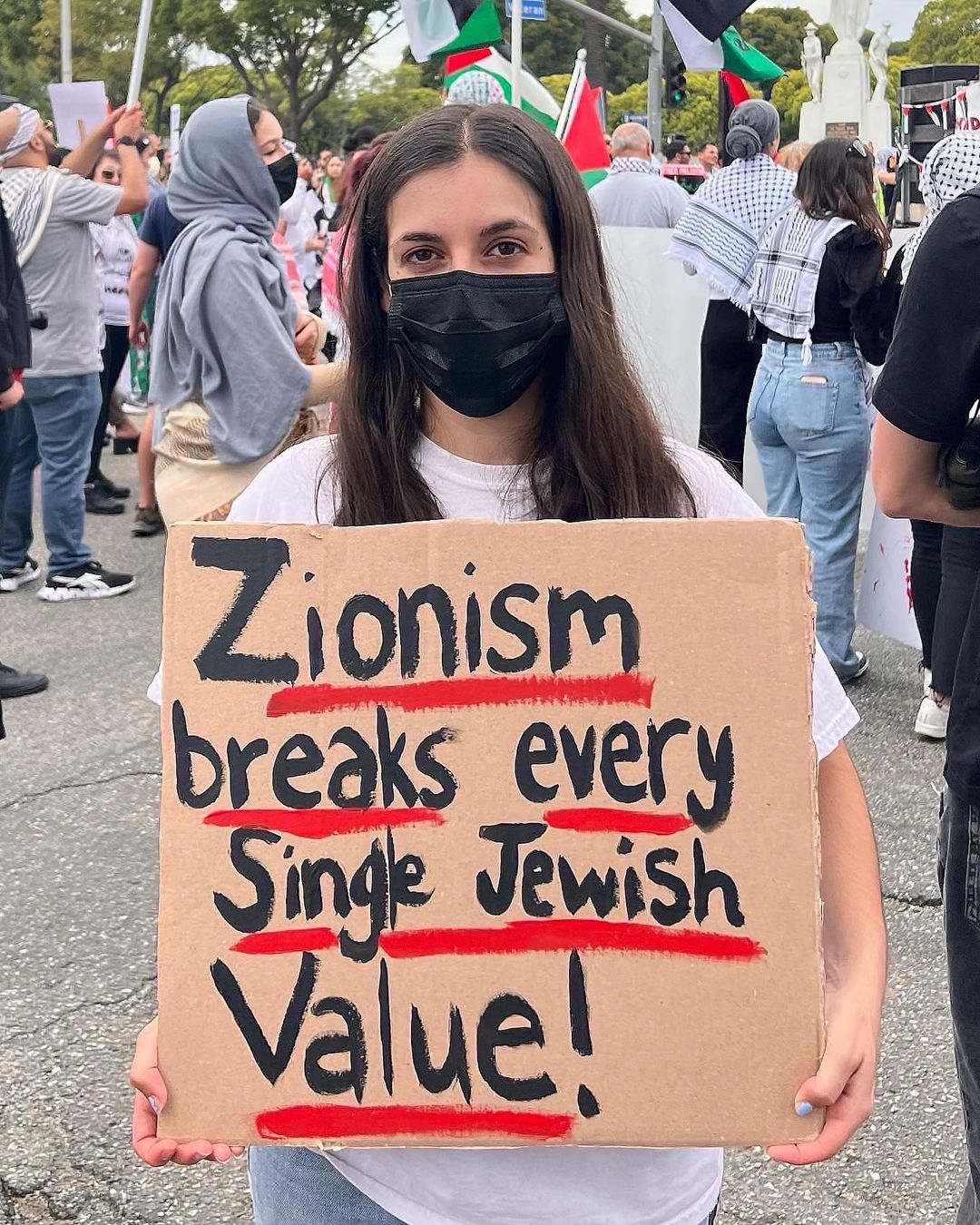 CHANGING HEARTS AND MINDS BY WRESTLING WITH ZIONISM
After successful events in New York City and Knoxville, TN, JVP's Havurah Network launched the Wrestling with Zionism (WWZ) workshop facilitator's training series. Developed by member leaders in the NYC chapter, WWZ provides a guide to unearthing personal stories about our individual journeys learning about and challenging  Zionism. For many of our members, challenging Zionism in our personal lives was key to becoming activists for Palestinian human rights.
JVP-Knoxville leaders developed a Facilitator's Guide and trained 13 member-leaders from across the country in how to hold WWZ workshops in their own communities.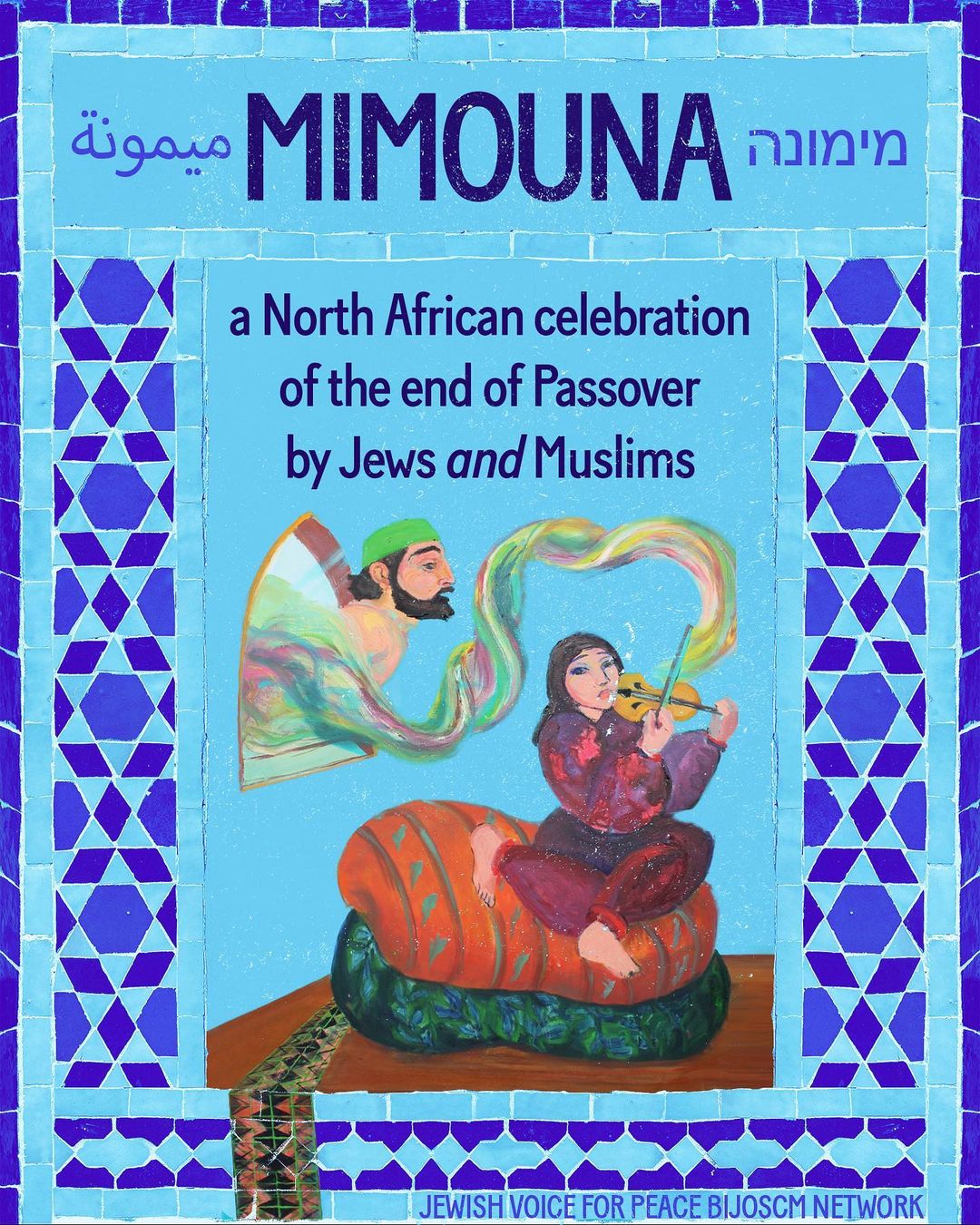 STRENGTHENING THE BIJOCSM NETWORK
JVP's Black, Indigenous, Jews of Color, Sephardi and Mizrahi (BIJOCSM) Network created a vibrant slate of cultural and educational events this year, allowing BIJOCSM people to bring themselves, histories, and traditions more fully into the work of Jewish solidarity with Palestinian freedom. 
 In April, Sephardi and Mizrahi members developed a series of virtual and in-person events that drew large audiences to honor Reuven Abergil – the co-founder of the Mizrahi Black Panther's movement that began in Jerusalem in the 1970s. Leaders also organized a post-Passover feast for the North African Jewish holiday known as Mimouna. We also supported the publication of the Black Panther Haggadah, which sold out of its first printing.
300 guests attended the Mimouna that included delicious food, live music, and ritual in Brooklyn, NY.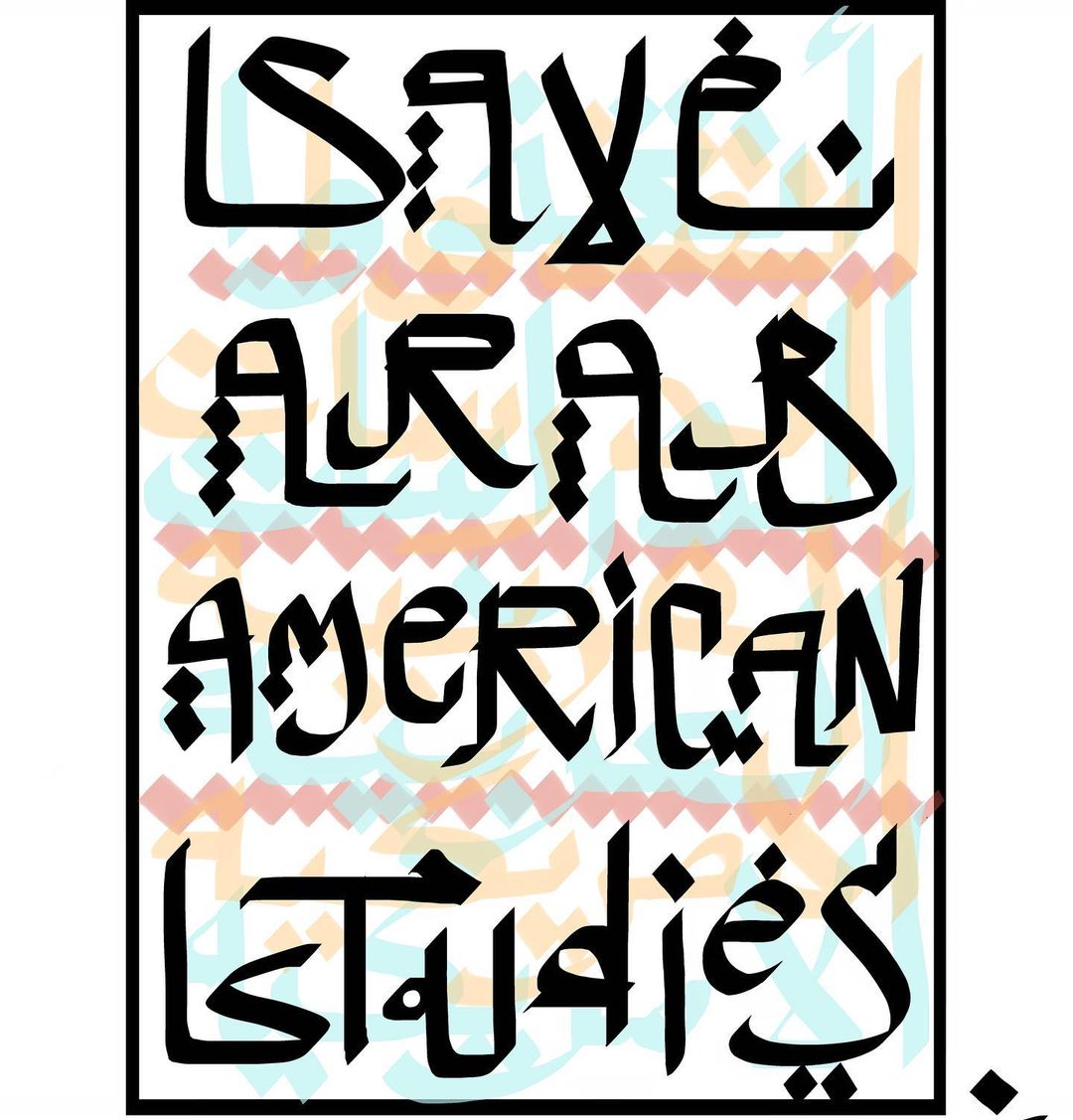 CONFRONTING ANTI-PALESTINIAN REPRESSION
After California voted to include ethnic studies curriculum as a required part of public K-12 schools, the proposed curriculum, which included Arab American Studies and Palestine, came under racist and Islamophobic attacks. JVP California chapters, working with the Save Arab American Studies Coalition led by the Arab Resource & Organizing Center, organized the progressive Jewish community to defend against these attacks. As the right attempts to ban ethnic studies and critical race theory from classrooms across the country, JVP chapters continue to support educators and communities of color across the U.S. through participation in the newly established Coalition for Liberated Ethnic Studies to advance the movement for Ethnic Studies including teaching Palestine. Several hundred people attended the webinar Jewish Educators say YES to Liberatory Ethnic Studies.
Members spoke at over 20 state and local school district meetings to counter the anti-Palestinian racism and false charges of antisemitism made by the ADL and other pro-Israeli apartheid interest groups. 
(Growth from last year in parentheses)

MEMBERSHIP AND FINANCIALS
Our grassroots fundraising model keeps us accountable to you, and gives us the freedom to pursue our collective vision for Palestinian liberation. 93% percent of our funding comes from individual donors. In Fiscal Year 2022, our average gift was $60. Every gift you make gets us closer to the world we want and the change we need. Thank you!
JVP IS BUILT FOR THESE MOMENTS.
JVP is only as strong as our base — and that's why we need you by our side. Whether you join us as a chapter leader, donor, online action taker, or member, we need each and every one of you to help create the world we all want. With your support, we can take our work to the next level and ensure that our legacy is one of justice.