DEAR FRIENDS,
5780 was a hard year, and one that most of us are surely glad to leave behind. But just as life moves forward, roots spread, children grow, and communities connect, our work advances, with new challenges and deepening victories.
Starting  as JVP's new Executive Director in the first days of the COVID pandemic was different than anything I could have imagined. And yet I haven't been surprised by the ways that our chapters, member leaders, and staff found innovative ways to be together and stand in solidarity with all our communities and allies.
 Through it all, we remain committed to our vision of a world where all people live with full equality, dignity and freedom, and to the long-term work of building power within our grassroots, intergenerational, multiracial base of Jews. 5780 is a year where I have felt, more than ever, the dawning of a future of Judaism beyond Zionism and the inevitability of an end to Israeli apartheid and occupation.
I felt this way watching our chapters and members show up: our Bay Area chapter mobilizing alongside partners to make sure Palestinian history was included in the California Department of Education's Model Ethnic Studies Curriculum, our member leaders in Minneapolis and all around the U.S. supporting and joining the historic Black-led uprisings, our BDS campaign wins, and all the ways we've shifted our community education and organizing to digital spaces. In the midst of one of the most profound periods of change to life as we know it, JVP has been a vibrant political and spiritual home for ever more American Jews and allies. 
 Looking back at the way all of us have grown, adapted, and made lasting change this year, I feel energized for the road ahead. Whether you're a new member or a longtime supporter, I'm grateful that you're with us, and I invite you to take some time to recall and celebrate the work that we've done, together.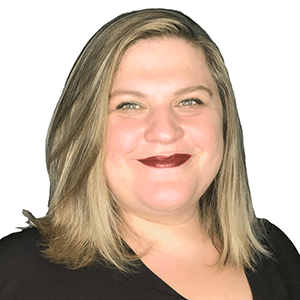 Warmly,
Stefanie Fox
Executive Director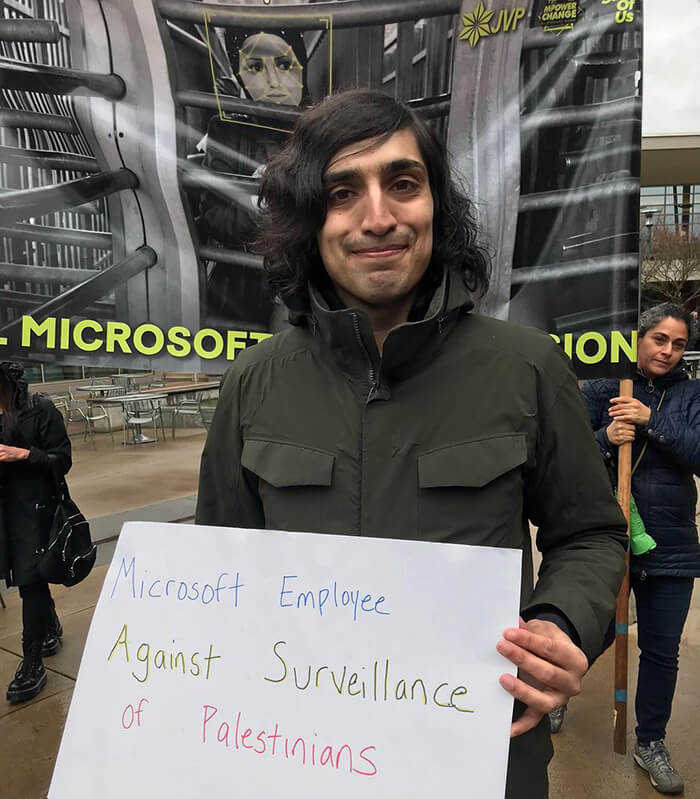 WINNING DIVESTMENT CAMPAIGNS
In March, the #DropAnyVision campaign — launched by JVP, MPower Change, and SumOfUs — celebrated a victory when Microsoft divested from AnyVision, an Israeli facial recognition company whose technology powers Israeli military surveillance of Palestinians living in the West Bank. This win was the culmination of a months-long effort to pressure Microsoft to apply its own principles of ethical facial recognition use to AnyVision. The pressure led Microsoft to initiate a third-party audit of AnyVision by former Attorney General Eric Holder. The company's divestment decision sets an encouraging precedent for the tech industry and represents a landmark win for the Boycott, Divestment, and Sanctions movement.
Microsoft pulled its multi-million dollar investments from AnyVision when its external audit could not confirm that AnyVision complied with Microsoft's ethical principles on the use of facial recognition technology.
The #DropAnyVision coalition gathered signatures on a petition delivered by JVP-Seattle members, allies, and Microsoft workers at a rally at Microsoft headquarters, leading  to an external audit and Microsoft's eventual divestment from AnyVision.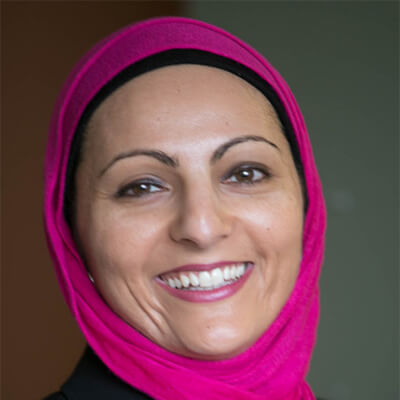 Aneelah Afzali
EXECUTIVE DIRECTOR, MUSLIM EMPOWERMENT NETWORK
"JVP's effective leadership was clear with the #DropAnyVision campaign.  Not only does this secret surveillance at military checkpoints violate Palestinian human rights, but it is a testing ground for technologies to monitor, surveil and further criminalize Black and Brown communities here in our country.  Microsoft's decision to divest from AnyVision in March was a victory for all of us who care about human rights, civil liberties, privacy, justice and international solidarity."
BUILDING COMMUNITY BEYOND ZIONISM
Around the U.S., tens of thousands of American Jews support justice and human rights in Palestine/Israel and feel alienated by the Zionist discourse in mainstream Jewish spaces. JVP offers a political and spiritual home to diasporist, non-Zionist, and anti-Zionist Jews. This year we celebrate the launch of a new network by and for Black Jews, Indigenous Jews, Jewish people of color, and Sephardi and Mizrahi Jews (the BIJOCSM Network), the growth of JVP's Havurah Network, and the release of the JVP-produced Diaspora Podcast.
JVP's Havurah Network has grown from 18 spiritual communities in 2018 to 37 this year. This June, the Havurah Network held its first Gather-In. For over a week, 123 JVP members virtually gathered to connect, learn, pray and scheme with other radical Jewish meaning-makers across the country.
This July, over 200 BIJOCSM Network leaders signed a letter asking all American Jews to divest from police, and urging all Jewish community and religious institutions to end their partnerships with the police.
Diaspora Podcast is about the big concepts animating progressive Jewish life. This season's topic was Zionism — what it is and how it impacts all of us in different ways.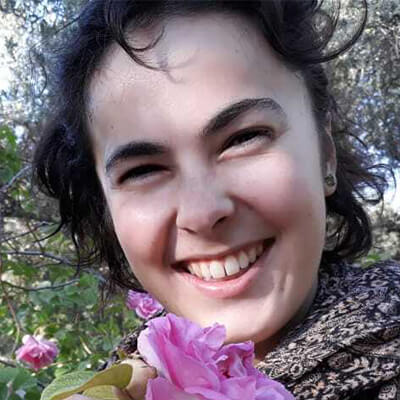 Jessie Stoolman
JVP AT UCLA
"I have been alienated from religious spaces for most of my life, but the Havurah Network Gather-In was such a safe place to explore the infinite horizons of combining my political work with my desire for increased spirituality in my daily life/practice. I'm grateful to the organizers for being role models for how to transform Jewish political organizing into spiritually Jewish political organizing. Simcha!"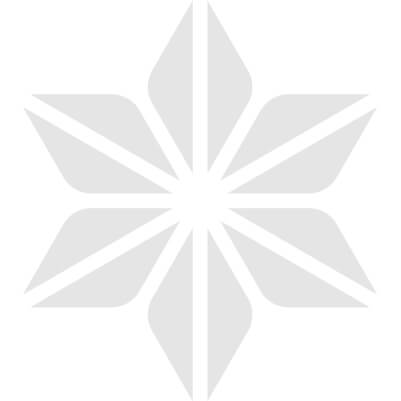 Joseph Brooks
JVP MEMBER
"I love this amazing, necessary podcast. I've gone from questioning Zionism to hardcore Zionist to questioning Zionist to Zionism-lite and finally to anti-Zionism and your podcast is a breath of fresh air. I eat up every episode like candy and will continue to promote your podcast as much as I can."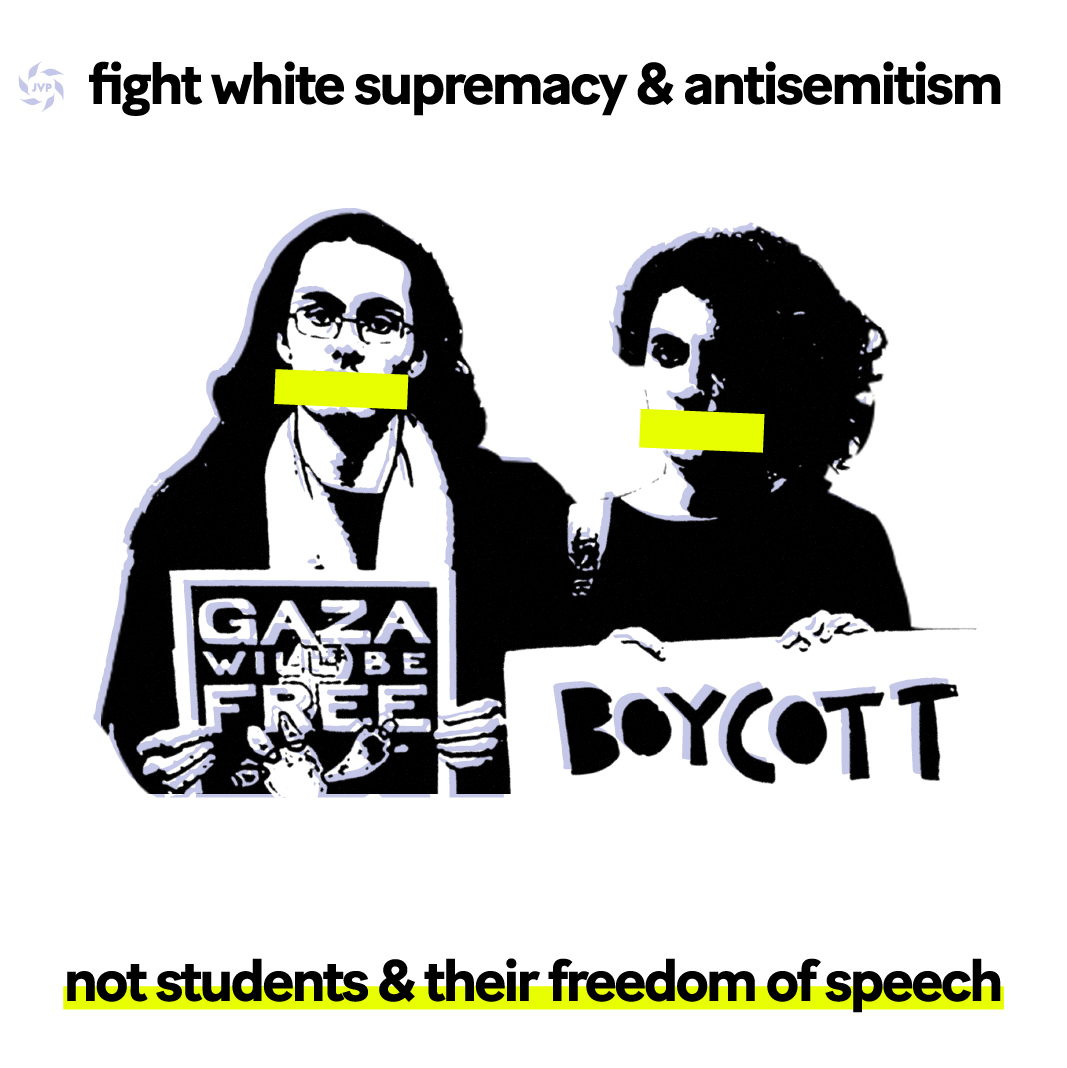 FIGHTING THE WEAPONIZATION OF ANTISEMITISM
As the only Jewish American organization that supports the call for Boycott, Divestment, and Sanctions, we have a crucial role in resisting the weaponization of antisemitism, which equates any critique of Israel with antisemitic speech. This year, when Trump issued his "Executive Order on Combating Antisemitism," aimed at silencing on-campus criticism of Israel rather than making Jewish students and faculty at schools across the country safer, JVP members all across the U.S. spoke out.
Around the U.S., hundreds of JVP members gathered for 40 #RekindlingResistance Hanukkah celebrations that infused ritual with resistance to Trump's Executive Order, and to authoritarian rule everywhere.
Over 50 campus- and community-based progressive organizations signed on to our letter opposing Trump's Executive Order, affirming that we should be fighting antisemitism, not students and freedom of speech.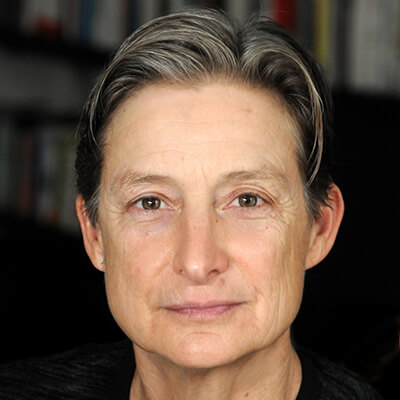 Judith Butler
JVP ADVISORY BOARD
"It has never been more important to oppose the insidious formulation that to criticize the state of Israel is antisemitic.  Such a slanderous charge threatens our freedom of expression and rests on a revisionist understanding of  the complexity of Jewish history and culture, ignoring the history of Jews opposed to injustice of all kinds. JVP has been at the forefront of this struggle to keep critical voices strong and loud, and to combat every kind of racism, including actual anti-Semitism.  As new policies seek to normalize justified criticism of an apartheid state as antisemitism, we need JVP more than ever.  A movement of steady and courageous voices that help us to know our history apart from the Zionist framework and to struggle for a future of justice, JVP is indispensable for renewing the most important struggles of our time."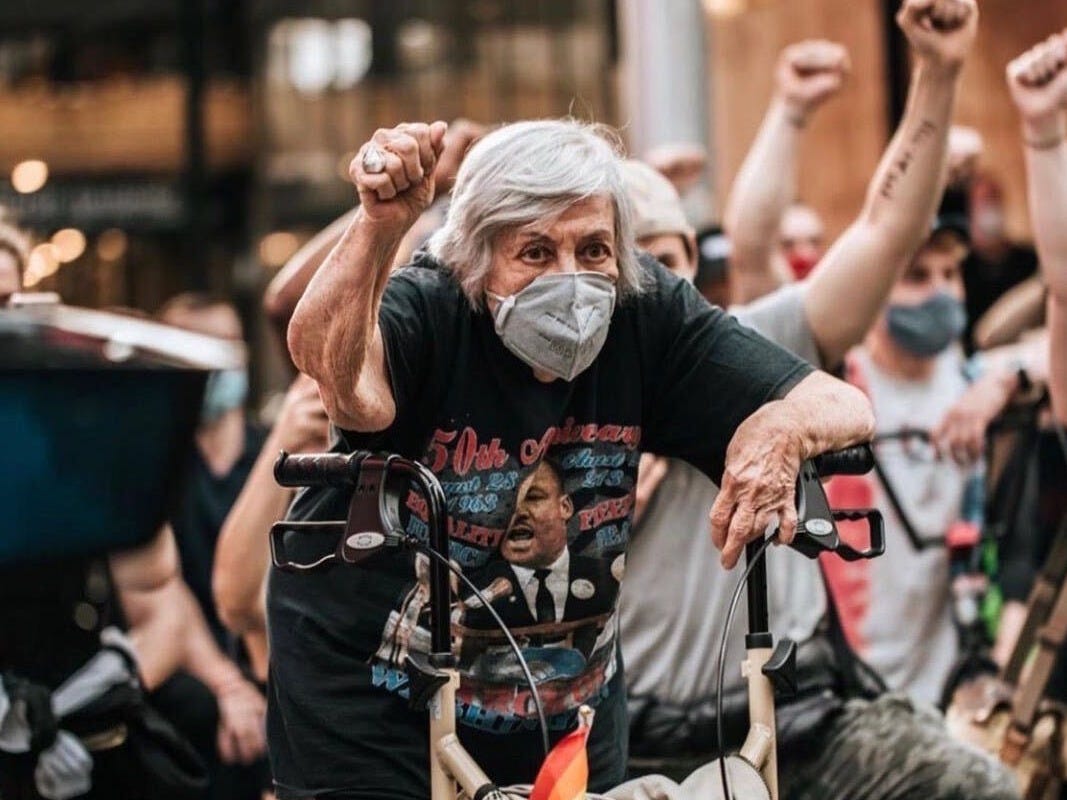 GROWING THROUGH LOCAL POWER
JVP's chapters, in communities around the U.S., bring local power to the Palestinian rights movement through the vibrant work they do. In the midst of a challenging year, we are celebrating the resilient member leadership and relational organizing of all our chapters, and shining a spotlight on the work of JVP-NYC. When New York became a global epicenter of the COVID pandemic, JVP-NYC quickly rose to meet the moment. And when the Black-led uprisings began, the chapter showed up strongly in the streets.
JVP-NYC made a new commitment to paying reparations and to sustaining and supporting Black-stewarded land sites across the country, ultimately moving $216,000 to the Black Land and Power Project's Reparations Summer Campaign.
Younger members of JVP-NYC curated the widely-attended "Conversations with Movement Elders" digital series, publicly interviewing longtime leaders inside and outside JVP about their histories and perspectives on the present.
Every week for six months, 20-55 members of JVP-NYC spent their lunchtimes making calls to pressure decision-makers to #FreeThemAll from prisons, jails and detention centers, from the U.S. to Palestine.
Colette Gerstmann
JVP-NYC Member Leader
"Being in JVP-NYC has helped ground me in the vast interconnectedness of liberation movements from New York to Palestine. This year, it has also helped me feel a deep sense of belonging to a community of care and justice. Through the work we do, JVP provides me with so many opportunities to understand my interdependence with the people in my neighborhood, the people in my city, and those fighting for justice around the globe."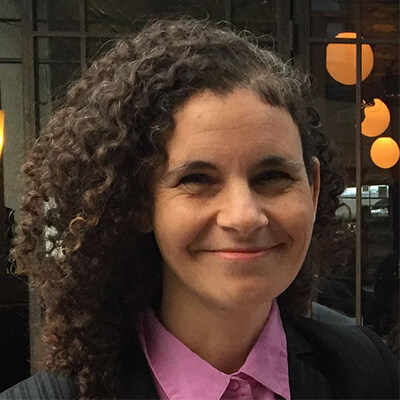 Shirly Bahar
Tzedek Lab Co-Director and JVP-NYC Member Leader
"When I started working as a cultural organizer around Mizrahi issues, my JVP-NYC family was there to listen and partner with. In the face of attacks from the right-wing press, they had my back. I go to chapter meetings to sharpen my political analysis, get meaningfully involved, and receive warm community care. I can't wait for all the ways in which we'll continue to make an impact towards Palestinian liberation and transnational collective liberation."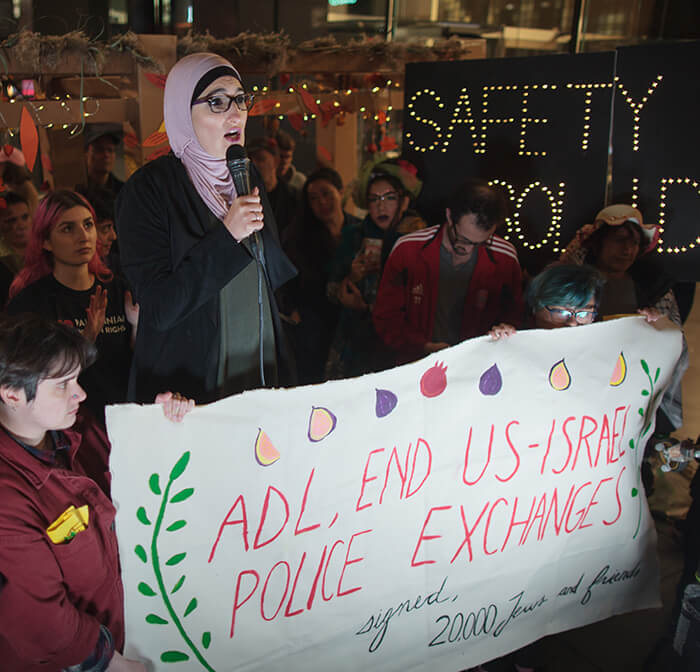 RESISTING THE DEADLY EXCHANGE
From the powerful #8toAbolition platform to local #DefundPolice campaigns, ending international police exchanges has become an integral part of the broader movement to challenge racist policing. Deadly Exchange is a national grassroots campaign focused on ending U.S.-Israel police exchanges. These exchanges, primarily led by nonprofit organizations such as the Anti-Defamation League, whitewash Israel's human rights abuses and strengthen the violent system of policing in the U.S. This year, Deadly Exchange leaders have shown up in force in the streets and in anti-racist coalition spaces nationwide, contributing valuable resources, research, and analysis on internationalism and Israel's role in militarized violence globally.
JVP members, supporters, and partners demonstrated at the "People's Sukkah" outside ADL offices in New York and at Hanukkah actions in New York and Boston, demanding an end to U.S.-Israel police exchanges and #SafetyThroughSolidarity.
JVP members and supporters tweeted at the ADL this June, calling out their ongoing and inexcusable collaboration with police forces through U.S.-Israel police exchanges and a range of other programs.
Across the country, six JVP chapters are building cross-movement, multiracial coalitions focused on ending U.S.-Israel exchanges and fighting state surveillance, policing and violence more broadly.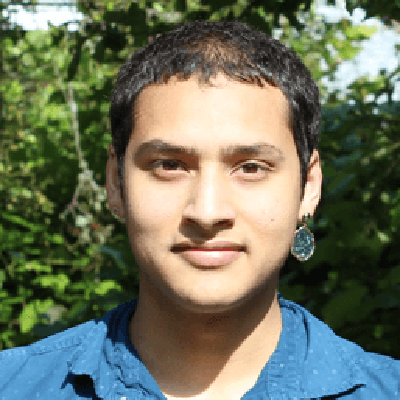 Guy Oron
JVP-SEATTLE, END THE DEADLY EXCHANGE SEATTLE
"This year, End the Deadly Exchange Seattle has supported efforts to defund the Seattle Police Department and rallied alongside Black, Palestinian, and Indigenous organizers against the police and occupation, both on Duwamish land and in Palestine. This winter we hope to work with city council members to put an end to all cooperation between Seattle police and Israeli military and security forces."
Benjamin Kersten
JVP AT UCLA
"Alongside SJP at UCLA & UC Divest Coalition, JVP at UCLA is recreating the series "Abolition from the U.S. to Palestine" led by JVP-NYC. We welcomed over 30 people nationwide (from many universities) at our first session. Our political education integrates Deadly Exchange work and local abolitionist organizing, especially the UC Cops off Campus movement. We feel connected to JVP values as we work to build a world that redefines community safety beginning from our local context."
MEMBERSHIP AND FINANCIALS
Our grassroots fundraising model keeps us accountable to you, and gives us the freedom to pursue our collective vision for human rights and justice. Over eighty percent of our funding comes from individual donors. In Fiscal Year 2020, our average gift was $75. Every gift you make gets us closer to the world we want and the change we need.
CHAI CLUB MEMBERS WHO GIVE MONTHLY
COUNTRIES WITH JVP MEMBERS
JVP Budget FY2020: $3,075,538
JVP IS BUILT FOR THESE MOMENTS.
We have to be bold if we're going to reach our goals: protecting our rights to speak up for Palestinian human rights on our campuses and in our communities, deepening solidarity with movements for justice around the U.S. and the world, and continuing to be the political and cultural home for anti-Zionist American Jews and allies that resists and persists in a rapidly changing world.
The only way we can do it is together. Whether you join us as a chapter leader, donor, online-action taker, or brand new member, we need your help to create the world we all want.
5781 is going to be a big year for JVP — let's get to it!