We can all do something for justice.
Dear Friends,
I am incredibly hopeful.
This has certainly been a year of challenges, from vicious cuts to basic services for Palestinian refugees, the Nation State Bill, brazen attacks on Gaza demonstrators, the Muslim ban, and more.
But what stands out to me are the tens of thousands of volunteer hours, countless conversations, and daily rapid response work JVP members and supporters like you took on to bring a different, truly just future closer.
You are an enormous bright spot in this difficult political moment.
Because you signed the Deadly Exchange petition to end US-Israeli police collaborations, or joined a virtual High Holiday service. Because you talked to a family member about Israel for the first time, or the hundredth. Because you moved the needle on so many other issues – whether immigrant detention, reproductive rights, climate justice, or health care. Because you joined or renewed your membership.
All of it is a testament to a fundamental truth: we can all do something for justice in Israel/Palestine.
JVP's strengths are tailor-made for this moment: our members thrive on bringing clarity to complex issues; offering inspiration for the long-haul; and welcoming new people into this justice movement every day.
And that has made JVP into a real political home – for me, and I hope for you, too.
In these intense times, still more people are joining us – committing to act for justice, equality and human rights for all.
This report highlights just some of the many powerful actions we took collectively toward justice in the past year. I hope it will inspire you – like you inspire me.
Onward,
Rebecca Vilkomerson
Executive Director
We are growing a powerful multiracial movement of American Jews and allies for Palestinian human rights. In five years we will be able to claim 5% of American Jews as JVP supporters working for justice for all in Israel/Palestine.
We can all do something for justice…
To change U.S. policy towards Israel/Palestine, we need Members of Congress to take action. Through meetings, town halls, protests, e-mails and phone calls, we mobilize grassroots power to move Congress to shift U.S. policy.
REPRESENTATIVES TOOK A STAND
JVP members, in collaboration with partner organizations, moved 30 Members of Congress to cosponsor the first piece of legislation in Congress in support of Palestinian rights.
JVP members attended over 200 meetings, town halls, protests, and other actions with Members of Congress during the 115th Congress.
Rep. Betty McCollum (MN 4)
US representative
"JVP's membership is a superpower. In size and strength, JVP members are essential to earning support from my colleagues in Congress. I'm so proud to work with JVP to advance our shared values and common commitment to peace, human rights, and dignity for all people."
Sandy Pasch
JVP LEGISLATIVE LEADERSHIP TEAM
"Jewish Voice for Peace is doing the crucial work of changing the political calculus for Members of Congress. We help them understand that it is in their interest to support Palestinians rights. If they don't, they'll be hearing from us! And when they do, we have their back."
We can all do something for justice…
To End the Deadly Exchange
The Deadly Exchange campaign targets ending training programs between Israeli military and US law enforcement. This year we launched the campaign nationally, and are engaging city councils, the media and the Anti-Defamation League – which runs one of the largest programs.

The campaign has collected 21,823 signatures calling on the Anti-Defamation League to end its police exchange programs with Israeli military.
This spring Durham, NC was the first city to pass legislation outlawing the participation of its police force in military exchange programs. Eight similar campaigns have launched in cities nationwide.
Claire Raizen
NEW YORK CITY CHAPTER MEMBER
"Through this campaign, we're contributing to the public conversation about racism and colonization from the US to Palestine, we're forging relationships with local anti-racist groups through joint action, and we're putting Jewish institutions claiming to speak for us, but fighting against Palestinian rights, on notice."
Beth Bruch & Noah Rubin-Blose
Triangle chapter members
"The Demilitarize: Durham2Palestine victory demonstrates the power of multiracial interfaith local coalition building to benefit our community, respond to the Palestinian call for BDS, and advance abolitionist principles. We are proud that Durham's police will no longer participate in military-style trainings in Israel or elsewhere!"
We can all do something for justice…
We are a political and spiritual home rooted in Jewish traditions, finding meaning, grounding and strength as we build a Jewish community dedicated to justice for all.
JEWISH SPIRITUAL COMMUNITIES
30 Jewish spiritual communities and congregations are building a cross-country network working for Palestinian human rights.
PEOPLE ATTENDED OUR SERVICES
1,000 people attended High Holiday services last year through our High Holiday livestreams.
Rachel Kipnes
NEW ORLEANS KOL HALEV
"The Havurah Network helps me envision and build toward a Jewish community that does not compromise my values. It has given me the confidence to push my Jewish community, not just on issues of Palestinian solidarity, but also on immigration and mass incarceration in New Orleans. I believe that when we are fed spiritually we can be more expansive in our vision of a liberatory future."
Rabbi Margaret Holub
JVP RABBINICAL COUNCIL
Answering the call for solidarity from No More Deaths / No Más Muertes, rabbis from JVP's Rabbinical Council joined over 60 faith leaders in providing humanitarian aid for migrants crossing the Arizona desert. Rabbi Margaret Holub stated: "We who join Faith Floods the Desert from the Rabbinical Council of Jewish Voice for Peace note with sorrow and honor the connection between immigrants seeking refuge in the United States from untenable lives in their homelands and Palestinians who seek relief from increasingly oppressive conditions imposed upon them there."
For All Families to Stay Together
Pressuring Jewish Institutions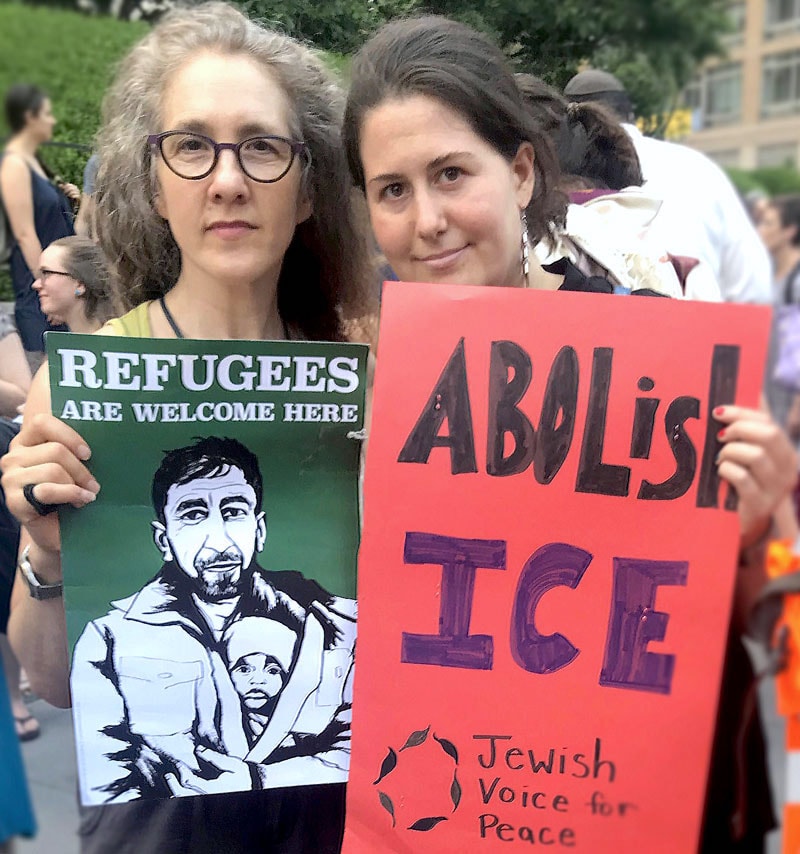 In Solidarity with Immigrants
Engaging in Civil Disobedience
In Palestine and at the U.S.-Mexico Border
We can all do something for justice…
Our large online presence and engaged members fight human rights abuses, attacks on democracy and discrimination – both in the U.S. and in Israel. Our campaigns have mobilized thousands of people to take action, gaining mainstream press coverage and bringing Palestinian human rights into the larger progressive movement.
During the Great March of Return and horrifying violent response from the Israeli military, JVP members around the country took to the streets in over 60 actions.
Over 85,000 people have taken action through JVP online this year in support of Palestinian human rights.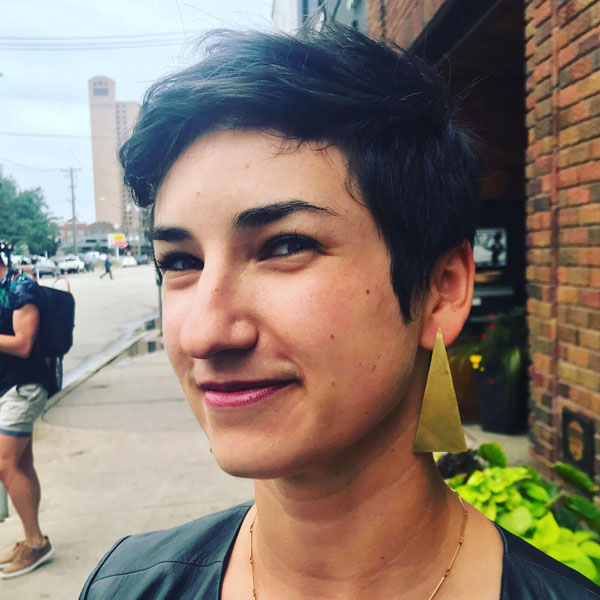 Elyse Gordon
SEATTLE CHAPTER LEADER
"Helping lead and organize the ritual for Gaza during the Great March of Return gave me a space to grieve and organize, and connected me to the wide, diverse, multiracial community committed to Palestinian solidarity. It gave me hope and helped me recommit to why I do this work."
Greg Siegel
NEW YORK CITY CHAPTER MEMBER
"So many public figures and artists I admire are finally speaking out for Palestinian rights. When they do, showing them gratitude and support is a powerful part of our work. I'm newer to the movement, and JVP makes it possible to take meaningful actions alongside a beautiful, vibrant community."
Financials
Our grassroots fundraising model keeps us accountable to you and our shared vision for the future. 84% of our funding comes from individual donors. Over the last 12 months, over 14,000 people donated to JVP and our average gift was $84. Every gift, every dollar gets us closer to the world we want and the justice we need.
We Are All Doing Something
Lots of things, in fact. Just as there is no single pillar upholding apartheid and inequality in Israel/Palestine, there is no single action or approach that can create a better future. It takes work of all different kinds, bound by shared values.
That all people have the capacity to change.
That everyone has a special talent, connection, or resource to contribute.
And when we lead with hope and love, there's nothing we can't do.